September 23, 2009
Mark Boyd
5 Tools to Increase Productivity
I was at my Girlfriend's parents house last week and her Uncle comes out with "Mark, you've not updated your blog in ages". I didn't even know he knew about my site! He has a point though, its been almost two months since my last post so I've decided to pull my finger out and get posting again.
So to start off my new round of posting I've decided to share my favourites tools that increase my affiliate productivity. To many of you these will be nothing new and you'll have been using them for years, but for the newbies that read my blog, I hope this helps you out.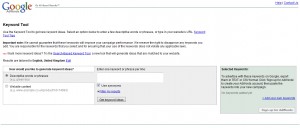 This is the first tool any affiliate should learn to use. It's pretty simply to use but the information outputted can be invaluable to the success or failure of your new site. Punch in a few keyword ideas and the Keyword Tool will give you an approximate number of monthly searches. Having used this tool for a while now, I can safely say it isnt 100% accurate, however it still lets you know if a keyword is being search for in droves or not. It shows you how many searches a month a term gets globally and it also tells you how many in the UK.

This handy tool from Hubspot is very helpful for pointing out some simple SEO mistakes you've made. You can also use it to compare your site with your competitors'.
3. Statcounter

I understand that majority of affiliates tend to use Google Analytics, but I've always preferred Statcounter, it can give you all the information you need to monitor the success of your Website or PPC campaign.
This is actually my website, so stand by for a shameless plug! Tweetdock allows you to set up automated Twitter advertising campaigns based on what people are talking about. Imagine you have a site about bananas (its just an example, dont make a site about bananas!), you can setup tweetdock to have your twitter account @ reply anyone on twitter who says the words "banana" or "bananas". You can also geo-target and only message people within a certain radius of a city. So you might own a coffee shop in London, you can use Tweetdock to message anyone who mentions "coffee" within 20 miles of London. The possibilities are endless, you just need to get creative! Sign up for a week's free trial now.
This should probably have been number one on the list as it solves a problem that has caused me nightmares for years. If you want to provide a price comparison on your website but don't have the technical know-how, this is the product for you. ECU offer a free account which means you can make as many price comparisons as you like but 20% of the clicks will go through their affiliate link instead of yours. If that's not your thing, you can pay £19.99 + VAT per month and get 100% of the clicks going through your affiliate link. The prices are taken from the merchants data feeds so you simply create the unit and leave it, no need to manually update the prices. I cant recommend their service enough and they have a friendly team behind them that are constantly looking to improve the product based on customers feedback.
Of course there are many more tools worth using, but these five stick out in my mind as increasing my productivity. Feel free to comment with your favourite tools.

Comments
Say Something